If you enjoy drinking, you may have been aware that an adequately preserved bottle provides the best flavor. We all drink to celebrate and sometimes let it go, as we all know. However, a drink is valuable because of its brand, and brands require special attention and storage. Keep your favorites in a superior Bar Cabinet Online that provides your brand with the attention it deserves.
With the help of home bar furniture, create professional presentations for your business from a simple, well-stocked setup. You've come to the correct place if you're looking for an attractive, fashionable, and dramatic bar unit online. The Home Dekor furniture store features a large selection of Home Bar Furniture that perfectly complements your area.
Home Bar Furniture Designs to Make Your Space Alive
With our elegantly designed furniture, you'll be able to construct a home bar that looks and feels like a real one. The most lovable brand in India, The Home Dekor, supplies you with the ideal Solid Wood Bar Cabinet for throwing a party for your little group of friends.
Zambo Bar Cabinet is handcrafted furniture with attractive displays and wine bottle and glass storage spaces. Sheesham wood is used, and there are two doors, one drawer, and a 15-bottle rack.
Meeg Bar Cabinet is a one-door, one-drawer piece of handmade furniture. It features a lovely cabinet where you can keep your wine and glasses. Sheesham Wood has a simple and exquisite pattern that gives it a royal appearance.
Handmade furniture with a bottle and glass rack, the Rustic Looking Bar Cabinet. It has a lovely structure. Rajasthani hand carving is known for its craftsmanship and solid structure.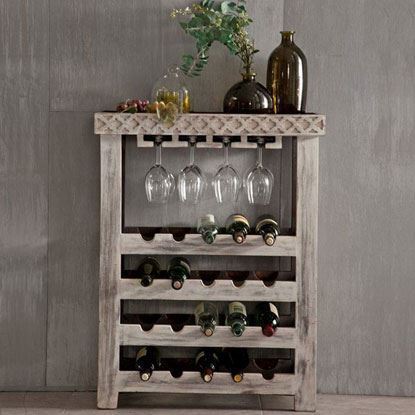 When you're having a get-together at your house and don't want to get up to refill those wine glasses, then this cabinet is your friend. It features many places for extra glasses for those who arrive late. It's made of the best Sheesham wood, which is incredibly solid and durable, with protective and smooth edges that make pushing and pulling the trolley a breeze.
Now is the perfect time to display your priceless collection. The bar furniture line from The Home Dekor provides your home with a classy look. Visit our website to learn more about our products and Buy Bar Cabinet Online!
Also Read: Flaunt Your Home Bar with Stunning Bar Furniture Range
Visited 1 times, 1 visit(s) today